Careers
---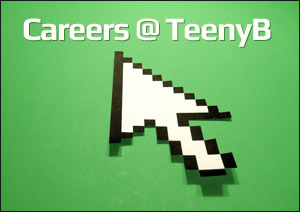 TeenyB Bikini Couture is one of the fastest-growing bikini companies in the world. To keep pace, from time to time we will list career opportunities here. We hope you'll bookmark this page and revisit often to check for new job openings.

View our LinkedIn Profile
---
Currently Open Positions
---
Customer Service Position
Position Summary
TeenyB Bikini Couture has an exciting new opportunity for someone with exemplary customer service skills and a can-do attitude!
We're looking for someone who is outgoing and genuinely enjoys working with people to join our customer service team. We pride ourselves on offering superior service to our loyal TeenyB customers, so the candidate that we hire really has to "WOW!" us. This is an in-house position in our Largo, FL office.
Duties & Responsibilities
Customer service specialist
Fitting specialist
Assisting in socializing the company's brand to existing and new customers
Inventory management
Order fulfillment
Minimum Job Requirements
Reliable Transportation
Flexible Scheduling
Strong interest in and familiarity with fashion
Knowledge, Skills and Abilities
Strong Excel and Word skills
Excellent communication skills, both verbal and written
Must be proficient with computers and the Internet
Must be detailed oriented
Must be able to execute tasks with limited supervision
Must be able to work both independently and collaboratively with the team
Exceptional organizational skills, with the ability to prioritize, and multi-task
Education and/or Experience
Experience with retail, and/or e-commerce environment

Apply for this position
---
Seamstress
TeenyB Bikini Couture is currently looking for an in-house seamstress to do sewing, pattern work and anticipate inventory needs. Duties include but are not limited to sewing and manufacturing using all the necessary equipment such as a sewing machine, over lock machine, blind stitch machine, binding machine, serger all industrial equipment, heat seal, steam iron, scissors, rippers and any other necessary equipment to produce our product.
Knowledge, Skills and Abilities
General sewing and pattern work experience
Must have the ability to stand and/or sit for long periods of time
Previous experience using a sewing machine, over lock machine, blind stitch machine, binding machine, serger all industrial equipment, steam iron, scissors and seam rippers preferred
Knowledge in Microsoft Office applications, specifically MS Word and MS Excel an asset
Self motivated
Flexible work schedule due to the needs of the business, M-F, 8-4, some nights and weekends may be required
Reliable means of transportation to the Largo production house
TeenyB Bikini Couture is Team Driven. We work hard together as a team and we respect each and every one of our team members.
A career at TeenyB is not only rewarding, it's also fun. We maintain a level of professionalism that far exceeds others in the industry, and we utilize a team-driven approach that gives our employees the necessary support they need to excel.
A successful employee must be self-motivated and driven to work in an environment that relies on teamwork to meet goals and expectations. A positive attitude is essential, along with ambition, organization and service spirit. We encourage our team to take ownership of their careers and success. Possessing these characteristics and commitment to excellence can provide you future growth within the brand.
If you have what it takes to be a part of the TeenyB Bikini Couture team apply now.
Job Category:
 Seamstress / Tailor
Location:
 US-FL-Largo
Organization:
 TeenyB Bikini Couture
Employee Status:
 Sub-Contractor
Schedule:
 Full-time
Pay:
$10-15+, eligible for bonuses based on performance

Apply for this position
---
Seamstress Manager
Under direction from the General Manager, the Seamstress Manager is responsible for providing leadership and support to all of the Seamstress associates in order to provide outstanding service and meet the demands and needs of the organization.
Duties & Responsibilities
Create a professional work environment by communicating and exemplifying TeenyB standards of excellence
Create effective teamwork between the organization and the Seamstress and manufacturing department
Create effective teamwork within the Seamstress department
Maintain a consistent high level of service within the department by recruiting, selecting, training, and developing quality professional Seamstress associates
Monitor and ensure that all Seamstress systems and procedures are consistently utilized
Achieve or exceed all statistical, productivity, inventory and performance goals
Deliver ongoing education, assessment and performance feedback to associates with regard to quality, productivity, service and seamstress policy and procedures
Manage the resolution of inventory related issues with a focus on providing timely and exceptional execution for customer experience
Forecast workload and monitor associate schedules (to include strategic vacation planning) in order to maintain appropriate departmental coverage
Utilize technical expertise to train existing staff, evaluate/test candidates to assess associate capabilities and develop accordingly
Maintain a clean and safe working environment
Responsible for upkeep and service to all workroom equipment
Responsible for supply orders and organization of facility
Support organization initiatives and events
Minimum Job Requirements
Preferred management experience and a proven track record in leading a successful team
Minimum 3 years seamstress/tailoring experience
Ability to sew a wide range of bikini styles for female clients
Capable of creating basic patterns of designer's ideas and grading out patterns for sample making and production
Knowledge of Seamstress industry including fabrication and styling of luxury merchandise
Demonstrate ability to manage, develop, and motivate people while driving company initiatives
Ability to learn IT applications, Microsoft Office and possess basic email and computer skills
Attention to detail and able to devise successful solutions to complex technical problems
Takes initiative in addressing workroom and production challenges
Creates a positive working environment
Ability to work well with others, as well as the ability to work independently to drive a successful department
Exhibit sound business judgment, demonstrate people management, and organizational ability
Good verbal and written communication skills needed, Fluency in a second language is an added benefit
Associates degree preferred

Apply for this position
---
General Webmaster
Position Summary
TeenyB Bikini Couture is growing at a steady pace, and we are looking to expand our team to include a General Webmaster. We're looking for someone who can be a jack-of-all-trades to handle everything from website management, creation, and refining to simple photo editing and more. This is an in-house position in our Largo, FL office.
Duties & Responsibilities
Update web pages
Create web pages
Maintain web standards
Add web-based functionality
Minimum Job Requirements
Basic knowledge of HTML and CSS
Basic knowledge of Adobe Photoshop
Knowledge, Skills and Abilities
Excellent communication skills, both verbal and written
Must be proficient with computers and the Internet
Must be detailed oriented
Must be able to execute tasks with limited supervision
Must be able to work both independently and collaboratively with the team
Knowledgeable in social networking and blogging
Exceptional organizational skills, with the ability to prioritize, and multi-task
Strong creativity and action orientated
Education and/or Experience
Experience with graphics & web design
Experience with web based marking
Experience in blogging platforms and social media tools, including but not limited to Facebook, Tumblr, YouTube, etc
Experience in e-commerce environment, a plus

Apply for this position
---