Careers at TeenyB
---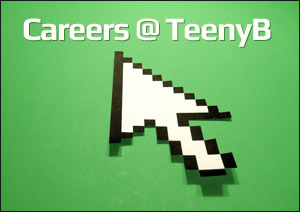 TeenyB Bikini Couture is one of the fastest-growing bikini companies in the world. To keep pace, from time to time we will list career opportunities here. We hope you'll bookmark this page and revisit often to check for new job openings.

View our LinkedIn Profile
---
Currently Open Positions
---
General Webmaster
Position Summary
TeenyB Bikini Couture is growing at a steady pace, and we are looking to expand our team to include a General Webmaster. We're looking for someone who can be a jack-of-all-trades to handle everything from website management, creation, and refining to simple photo editing and more. This is an in-house position in our Largo, FL office.
Duties & Responsibilities
Update web pages
Create web pages
Maintain web standards
Add web-based functionality
Minimum Job Requirements
Basic knowledge of HTML and CSS
Basic knowledge of Adobe Photoshop
Knowledge, Skills and Abilities
Excellent communication skills, both verbal and written
Must be proficient with computers and the Internet
Must be detailed oriented
Must be able to execute tasks with limited supervision
Must be able to work both independently and collaboratively with the team
Knowledgeable in social networking and blogging
Exceptional organizational skills, with the ability to prioritize, and multi-task
Strong creativity and action orientated
Education and/or Experience
Experience with graphics & web design
Experience with web based marking
Experience in blogging platforms and social media tools, including but not limited to Facebook, Tumblr, YouTube, etc
Experience in e-commerce environment, a plus

Apply for this position
---
Customer Service Position
Position Summary
TeenyB Bikini Couture has an exciting new opportunity for someone with exemplary customer service skills and a can-do attitude!
We're looking for someone who is outgoing and genuinely enjoys working with people to join our customer service team. We pride ourselves on offering superior service to our loyal TeenyB customers, so the candidate that we hire really has to "WOW!" us. This is an in-house position in our Largo, FL office.
Duties & Responsibilities
Customer service specialist
Fitting specialist
Assisting in socializing the company's brand to existing and new customers
Inventory management
Order fulfillment
Minimum Job Requirements
Reliable Transportation
Flexible Scheduling
Strong interest in and familiarity with fashion
Knowledge, Skills and Abilities
Strong Excel and Word skills
Excellent communication skills, both verbal and written
Must be proficient with computers and the Internet
Must be detailed oriented
Must be able to execute tasks with limited supervision
Must be able to work both independently and collaboratively with the team
Exceptional organizational skills, with the ability to prioritize, and multi-task
Education and/or Experience
Experience with retail, and/or e-commerce environment

Apply for this position